Wave Wall? As they said on Seinfeld last night, "I don't like the sound of that."
Happy Friday...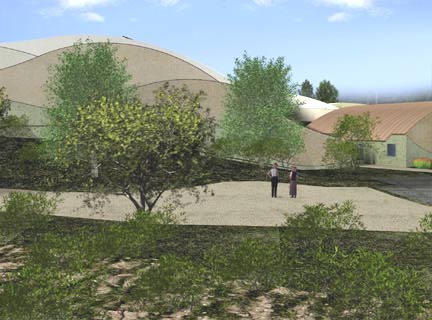 I came across this rendering of the treatment facility, and, boy, does that "wave wall" look expensive. The cost of that is on the park. Oh, and all of that pretty landscaping, that's not cheap, and that cost is on the park.
Joe Sparks made some good comments (when the "comments" section existed), and if he's right about the $10-million price tag for the permits, EIRs, studies, etc. required for a park-less, out-of-town facility, then the Los Osos CSD should really do that. Wow, they would save a bundle on not having to build the "wave wall," not having to bury the facilities, not having to build and maintain the park, and they would profit from selling 11 acres of prime real estate. All of that sounds like it adds up to a lot more than $10 mil.
Then, once you have that $10 million worth of permits, etc. in hand, you're good to go... without a disastrously expensive park in the plan. Fast-track a bare-bones, technically viable facility out of town, and get this damn thing over with. What's the problem? It sounds so simple.
"All in favor of voting for another $10 million to 'move the sewer' (permits, EIRs, studies, consultants, etc.), raise your hands?"
I'm raising my hand.
Have a great weekend!