SewerWatch Challenges Funding for Los Osos Wastewater Project
SewerWatch
is challenging the funding eligibility of certain portions of the Los Osos Community Services District sewer project.
The heart of the eligibility challenge is that the amphitheater included in the project is a "decorative item" and not eligible for State funding.
The amphitheater is part of an estimated $2.3 million park that is included in the sewer project and is being funded by the State Revolving Fund, a State sponsored fund that gives loans to California communities for wastewater treatment issues. According to the LOCSD, the State Revolving Fund (SRF) will be financing "100 percent" of the project.
However,
according to the the policy
that guides the SRF loan, "decorative items" like "art work, sculptures, reflective ponds, fountains, etc." are not eligible for funding.
An official with the State Water Resources Control Board, the agency that oversees the loan, has told
SewerWatch
that the park amenities are being considered "mitigation" and not "decorative items" by the State because the park was mandated by the California Coastal Commission, and therefore eligible for SRF funding.
However, a Coastal Commission spokesperson told
SewerWatch
that the park amenities were never required by the Commission.
"The California Coastal Commission does not believe that is an accurate portrayal of the history of the project," said Coastal Commission spokesperson, Steve Monowitz.
Monowitz was referring to the numerous instances where the LOCSD and other project proponents imply that the idea for the multi-million dollar park in the plan (
that is also dictating the central location of the sewer plant
) came from the Coastal Commission.

For example, according to a recent report from the Los Osos Community Services District, and submitted to State officials, the amenities were "added by CCC."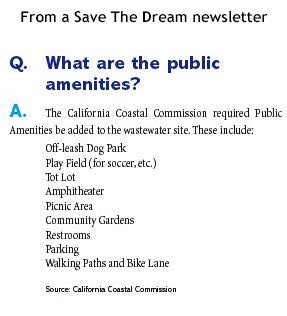 Another example comes from
a newsletter
from project proponents that says, "The California Coastal Commission required Public Amenities be added to the wastewater site."
Yet,
early documents
from the LOCSD clearly show that the initial CSD Board determined that it was "essential" that the wastewater treatment facility also double as a "recreational asset," and developed a "project objective" of "centrally located community amenities."
Furthermore, on June 17, 2004, the LOCSD Board unanimously voted to "reincorporate" the multi-million dollar park amenities into the project. The CSD had earlier removed most of the amenities from the project as a "cost saving measure."
"It galls me when they say we required the amenities," Monowitz said.
SewerWatch
has sent the SWRCB Division of Financial Assistance several e-mails over the last week regarding the park eligibility issue. An official for the Division recently replied, saying that the person "knowledgeable" about the SRF Policy "is out of the office until Friday or early next week."
The Los Osos Community Services District is expected to draw on the first portion of their SRF loan next week.
SewerWatch
will publish updates on this developing story when they become available.
###