The SewerWatch CDO Defense: Six Mirrors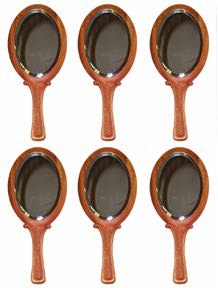 Before one of the "Los Osos 45" -- the 45 randomly selected property owners in Los Osos that were issued a
Cease and Desist Order
by the Regional Water Quality Control Board earlier this year -- says a word in their defense at the April 28 meeting regarding this matter, the Regional Water Quality Control Board needs to answer a question:
How is the train wreck in Los Osos not the RWQCB's fault for allowing the initial CSD Board to waste two critical years on a project that
the RWQCB knew wasn't going to work
?
An analogy:
If Exxon had told the federal government at the time of the
Valdez oil spill
, that their plan to clean up the oil was to sprinkle
fairy dust
on it, and the government said, "That ain't gonna cut it," but then just sat back and watched -- for two years -- while Exxon sprinkled fairy dust on the oil, who would be more at fault when the shores of Prince William Sound became a barren wasteland because the fairy dust wasn't cleaning up the oil? At that point -- two years later -- who would be more responsible for the barren wasteland? Exxon, for the initial spill, or the federal government for allowing the spill to fester for two years?
I'm not an attorney, but I'll play one on my blog, I think there's a legal term for that situation... and I believe it has something to do with
culpability
.
So, who is more culpable for the current situation in Los Osos? The property owners in Los Osos, many of whom weren't even around when Briggs and company at the local Water Quality Board were sitting on the sidelines, watching, as the initial CSD Board sprinkled
fairy dust
on Los Osos' wastewater problem from January 1999 to late 2000, or the only agency that had the authority to bring the initial CSD Board back to reality and save two precious, critical years, but failed to do so?
I've got to go with the latter on that one.
Which, for me (and you if you chose the latter, too), makes all of this a very interesting situation: The agency that is in large part responsible for the mess in Los Osos, is penalizing the people of Los Osos for that mess. Wow.
If I was defending myself against one of those CDOs, I'd show up at that April 28th meeting with six copies of my
open letter to Roger Briggs
and six mirrors. Then I'd pass them out to each member of the board, and Briggs, and then I'd say, "I rest my case."
###