Knee Cap, Meet Pipe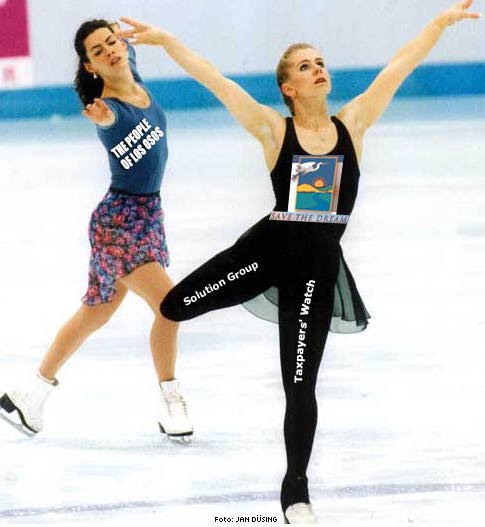 I've always liked editorial cartoons, so I gave one a shot.
Whadaya think? Not bad, huh?
Now, I realize I'm no
Russell Hodin
, and that I can barely draw a smiley face, but I do know how to steal things off
Google Images
and then modify them in PhotoShop, and I also know an exact parallel when I see one, and I see one with Tonya Harding and the unrelenting Los Osos citizens' group, Taxpayers' Watch.
Call it a guilty pleasure, but I love the Tonya Harding story: What does a competitor do when he, or, in this case, she, finally realizes that they will never win because the competition is just better? No matter how hard they practice, no matter how much they work on their game, no matter how much money they spend on equipment, they aren't going to win because the competition is simply better. What does a competitor do at that moment?
Most athletes faced with that inevitable predicament, retire. But not Tonya. She had a different plan. She thought "out of the box."
Taxpayers' Watch is now in Tonya's old predicament, and, unfortunately for the knee caps of Los Ososans, they're showing no signs of retiring.
For over two years now, spanning three consecutive elections where Taxpayers' Watch (aka the Solution Group, aka initial CSD Board, aka Save the Dream, aka Recalled Three) wracked up an unimpressive 0 - 8 - 1 record, they've strategized, advertised, and, publicized and they can't win. They've spent lots and lots of money on lots and lots of campaign stuff, and they can't win. They've done everything possible it takes to achieve a legitimate win in the political game, and they can't win. And, as Tonya will tell ya, when your game has slipped to those depths, and you
still
want to win, then there's only one thing left to do: knee cap, meet pipe.
The one small variance I see in my otherwise perfect Tonya Harding/Taxpayers' Watch comparison, is that Tonya only hired one goon -- my man, Shane Stant -- to do her dirty work, and he just cracked Kerrigan once on the knee... just before he ran to the doors that he had scoped-out as part of his pre-planned escape route, only to find that those doors had been chained shut. He then, in perfect Shane Stant/Tonya Harding fashion, jumped
through
the doors for his escape. (Sorry I had to bring that up, but that's my favorite part of the entire Tonya Harding story.)
Taxpayers' Watch has brought many Shane Stants on board to do their dirty work -- the local
Water Quality Control Board
,
The Tribune
, the LAFCO process, the civil court process, and now, a few in Los Osos that were... uhhhh... how should I put this?...
unsavvy
enough to pre-pay their entire assessment up front four years ago only to see it waste away in a prolonged blur of "bait and switchy" policies; folks that are now saying it's the current board's fault that their assessment wasted away and
now
want their money back -- and, unlike Stant who only took one whack at Kerrigan (and who seems downright humane compared to Taxpayers' Watch), they just keep whacking away at the knee caps of the community, over and over and over again. On the caps, on the sides, on the tender back part, ligaments, tendons, cartilage, whacked on, and on, and on... with no end in sight. Despite the fact that the majority of Los Osos voters have not only removed the chains from the escape doors, but threw them wide-open long ago, and have been standing next to them, pointing to the brightly lit exit for over two years now.
If memory serves, Harding eventually made her way back into the Olympics, where she finished 8th, six spots behind Kerrigan.
###