SLO County Parks Commission? You're Welcome!
I'm always surprised at the amount of
genuine
humor that's found in things like "sewer facility reports," and "immaterial amendments" to "coastal development permits," and small, local government agencies.
SO damn funny.
The following bit of hilarity (and trust me, if you can grasp the complex set of circumstances at work here, this is
really
funny), is a follow-up to my previous post:
American Smart-Ass
, that sets up this latest batch of comedy hits.
If you haven't read that piece, you might want to do that first.
Here's the direct link:
http://www.sewerwatch.blogspot.com/2012/03/american-smart-ass.html
- - -
- - -
TO: Pandora Nash-Karner,
SLO County Parks Commissioner
, 2nd District
DATE: 3/6/12
Dear Parks Commissioner Nash-Karner,
I have some excellent news involving the "centrally located" "sewer-park" in Los Osos, that you originally designed for
your
Los Osos sewer project, when you were
a Director on the Los Osos Community Services Board
, from late 1998 through the end of 2000.
To help refresh your memory, I've included in this email the front cover of the
Facilities Report
for the project that your LOCSD Board developed: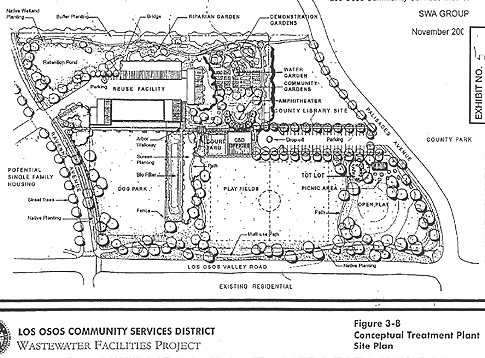 As you can see (if you look closely), your (and your husband's, "
SWA Group
") official, "
November 2000
" layout of the Tri-W sewer plant includes numerous park amenities, such as a "tot lot," "picnic area," "amphitheater," and more.
Now, I know how important those amenities are to you, because, as I first showed in one of my
New Times
cover stories, archived at this link:
http://archive.newtimesslo.com/archive/2004-09-22/cover/index.html
... the Facility Report for your Board's (now-failed) Tri-W project also reads:
"The (potential sewer plant) sites on the outskirts of town could not deliver a community use area that was readily accessible to the majority of residents..."
And, then, in the Coastal Commission's 2004 (originally-approved-but-now-"expired") permit for that project, it reads:
"... other (out of town) alternatives (to the Tri-W site) were rejected (by the 2000 LOCSD Board) on the basis that they did not accomplish project objectives for centrally located community amenities."
So, in other words, according to both your own LOCSD Board's documents, and official CCC documents, the above-mentioned park amenities in the Tri-W sewer plant were so important to you, as a LOCSD Board Director, that your Board "rejected" all other potential out-of-town sewer plant sites,
solely
for the "project objective" of those "centrally located community amenities" -- a "readily accessible" "community use area" in a sewer facility.
Well, here's the
excellent
news I have for you, today.
This Thursday (March 8), at the California Coastal Commission's meeting in Chula Vista, the "deputy director" for the California Coastal Commission will be "reporting" on my official "
written objection
," that those exact same amenities, that your LOCSD Board originally designed into the project in 2000, and that were solely responsible for dictating the downtown sewer plant location, be reincorporated BACK into the project, through a proposed amendment to the current Development Permit, that will move a "pump station" for the current project to nearly the exact same location as the "centrally located" "sewer-park" that you designed for Los Osos in 2000.
Even better, currently, the County is in the process of "restoring" the Tri-W site, after it was "massively graded" in 2005 to make room for your "centrally located" "sewer-park",
before
the Tri-W project would go on to fail completely in June of 2010.
So, look at this beautiful opening here. It presents the perfect opportunity for you, as a SLO County Parks Commissioner, to finish what you started in 2000, as an elected LOCSD Director: A "centrally located" "picnic area" in a sewer facility in Los Osos.
A
perfect
opportunity!
I wanted to show you this before the August 8 CCC meeting, because I know how excited you must be to see my "written objection," where I
insist
that the $6 million worth of "park amenities," like that "picnic area," "tot lot," and amphitheater," be reincorporated BACK into the sewer project, via the currently proposed amendment, considering that it was your original idea, as an elected official in Los Osos in 2000, to include those exact same park amenities in the first place... when you were also an appointed SLO County Parks Commissioner, in 2000.
Which means, of course, that you, in your official capacity as the 2nd District Parks Commissioner, will certainly want to contact the CCC's executive director, Charles Lester,
before
Thursday (and I apologize for such a short notice), in strong support of my "written objection."
I'll supply his email address:
clester@coastal.ca.gov
... so you can contact him ASAP.
I thank you in advance for your, and the entire SLO County Parks Commission's support, for my "written objection," that's based entirely on your original idea.
Sincerely,
Ron
P.S.: The SLO County Parks Commission can read my entire official "written objection" at this link:
http://www.sewerwatch.blogspot.com/2012/03/american-smart-ass.html
###