The Gord-O-Meter
[Note :: 8/11/07: I had the "Gord-O-Meter" in the template section of my blog for months, but I got sick I seeing it all of the time, so I moved it here... seemed like an appropriate place.
- - -
SewerWatch Presents: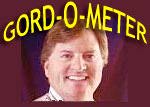 Ahhhh... bummer... it looks like the computer script that makes the Gord-O-Meter funny isn't going to work in the post section of the blog. Damn! Oh well, here's what it was: I found a script that counted up, in days, hours, minutes and seconds, and then I put that count-up in front of the following text, so it read something like this: 180 day, 14 hours, 28 minutes, and 52 seconds has elapsed since
SewerWatch
exposed
that environmental activist, recalled Los Osos CSD Director, former Solution Group member, and self-described "San Luis Obispo Coastkeeper",
Gordon Hensley
, can stop polluting the waters of California by installing a composting toilet system -- a system that the Regional Water Quality Control Board said "will" improve the water quality in Los Osos -- but has yet to do so."]
- - -
Is it pronounced Gord-OH-Meet-er or Gord-OM-eter, you know, like odometer? Either way, the circumstances demanded it.
I'm going to leave the Gord-O-Meter at the top of this blog until Gordon Hensley, an environmental analyst and recalled LOCSD Director, either puts in a composting toilet system, stops referring to himself as the "San Luis Obispo Coastkeeper," or I get sick of seeing that graphic (and it's my guess, it'll be the latter).
[Re-Posted here: 11/09/07...]
Gordon Hensley Never Played Little League
[9/17/07] I can tell that recalled Los Osos Community Services District Director, Gordon Hensley, never played organized sports while he was growing up, because one of the many beautiful life-lessons gleaned from participating in team sports as a youth is that you can't win them all, so when you lose, lose with dignity and class, and Hensley, hands down, is
the worst loser
I've ever seen.
Los Osos, he's about to sue you,
again!
Click here
to download a pdf file (622k) of his letter describing his intent to sue the Los Osos CSD... again.
When you read that letter, keep in mind that Hensley is THE San Luis Obispo Coastkeeper. It's just him, according to web sites. Then notice how he makes it seem like SLO Coastkeeper is some type of benevolent, concerned environmental organization, when, in reality, it's just a bitter, recalled LOCSD Director. Also notice that he never once refers to the fact that he
is
a recalled LOCSD Director, that was primarily responsible for unnecessarily ripping up the Tri-W site in the first place.
Finally, also keep in mind that Hensley voted to schedule his own recall election date at one of the latest possible dates, and that afforded him the window of time to begin site work (a.k.a: a bunch of huge earth moving tractors ripping up "environmentally sensitive" stuff) at the Tri-W site... just four weeks before Los Osos voters would throw him out of office. I wrote about that
here
. (Boy, is that a horrible law in the election code. What were they thinking?)
That's the kind of mind set that Los Osos has dealt with since 1999. Little wonder the town is in such a mess.
###