A Quick Look at Bruce Gibson's Job Performance, SewerWatch style
Whadaya say we quickly examine Supervisor Bruce Gibson's job performance to date,
SewerWatch
style?
He began his term in office by immediately re-appointing Pandora Nash-Karner to the SLO County Parks Commission, a seat she has held since 1991, giving her access to influential county officials that none of us get, and,
as many know these days
, almost exclusively because of
SewerWatch
, Nash-Karner was the #1 supporter/developer/marketer of the wildly unpopular, illegal, waaaaay unnecessarily expensive, environmentally disastrous, Tri-W Project -- a "sewer" project that had to be located in the middle of Los Osos, on "Environmentally Sensitive" dune habitat, so the town folk could easily get to the public park that Nash-Karner, as LOCSD vice-president, had built into the project, because she couldn't get legitimate park funding for Los Osos through the ballot box. (
She tried. It failed
, but the fact that Los Ososans didn't want to be taxed for parks at the same time they were staring down a gigantic sewer assessment didn't seem to stop her, so she tucked her park into her sewer plant, and that locked in the
illegal
, mid-town, Tri-W site.)
Nash-Karner is also
now-famous
for developing a "strategy" to have the entire town of Los Osos "fined out of existence," because they didn't favor her project.
Then, a few months after re-appointing Nash-Karner to the SLO County Parks Commission -- AFTER she developed a "strategy" to have the entire town of Los Osos "fined out of existence"... a strategy that appears to be working -- when every
other
official, everywhere, that had anything whatsoever to do with the illegal,
"bait and switchy"
Tri-W Coastal Development Permit, was essentially saying, "Look, just let the permit expire, for God's sake -- just let it die a pathetic death on the vine," Gibson, at the 11th hour, out of nowhere, drafts a letter that counters EVERYTHING that EVERY
OTHER
OFFICIAL was saying, and attempts an end-around in a bizarre, completely unexplained effort to have the illegal, "bait and switchy" Tri-W CDP NOT expire. He then drags that letter to an official meeting, and tries to get his fellow Supervisors to play along. They, unlike Gibson, were in no mood to counter EVERYTHING that EVERY staff member was saying, EVERYWHERE.
His letter would flame out miserably, and embarrassingly, at that meeting, prompting Gibson himself to call the letter a "mistake," after outraged public comment types, understandably, threatened a recall effort on the spot.
THEN, just about a month ago, growing tired of that type of public comment, Gibson admits, at a Board of Supervisors' meeting, that he has actually gone so far as to crunch the numbers on which public comment types were saying what, and for how long. (I know it sounds like I'm making that up, but I'm not. He actually broke down tape, like a football coach prepping for a game, and took notes on who was saying what, and for how long.) Gibson's fascist-like number-crunching would play a large role in greatly reducing the amount of public comment on the sewer project.
THEN, just a few weeks ago, after Supervisors that actually care about Los Osos, like Katcho Achadjian and Jim Patterson, directed County staff to draft a resolution intended to show official County support for 45 randomly selected households in Los Osos that have gone through a horrific, health-jeopardizing, two-year-long enforcement action by the local Water Board, only to have County staff, namely, former LOCSD Interim General Manager (hired by Nash-Karner), Paavo Ogren, use that proposed resolution (and therefore use those 45 households) to play the "Los Osos Sewer Train Wreck Blame Game," then, AFTER listening to one CDO holder after another beg the Board to NOT pass Ogren's terribly worded resolution, Gibson couldn't motion fast enough to PASS the hastily written resolution -- a resolution that called the post-recall LOCSD Board a "failure" for NOT building the wildly unpopular, illegal, waaaaay unnecessarily expensive, environmentally disastrous Tri-W Project.
Fortunately for the citizens of Los Osos, there are people like Achadjian and Patterson on the Board of Supervisors, and Ogren's terribly worded resolution -- where he, and Gibson, attempted to use the 45 CDOers to officially play the blame game for the Tri-W disaster -- did not pass.
If you ask me, the worst part about Ogren and Gibson using the 45 CDO households to officially play the blame game (because they favor people like Roger Briggs, lead staff guy at the Regional Water Quality Control Board, and Pandora Nash-Karner, over the citizens of Los Osos) when they popped out that terribly worded resolution a few weeks back -- that was originally intended to support those 45 households -- is that now, BECAUSE they tried to play the blame game with the language in that resolution, those 45 households don't have the official backing of the County today.
To put it another way: If Gibson and Ogren had NOT tried to play the blame game with that resolution, then it would have easily passed, but since they decided to use those 45 households to try and officially blame the post-recall LOCSD Board for the sewer train wreck, by calling them a "failure," (and, of course, that led to yet
another
barrage of outraged public comment types), those 45 households don't have the County's official support. And that's too bad, because they could sure use that document right around now.
A disgusted Supervisor Achadjian, at that meeting, directed Ogren to bring the resolution back at a later date, "without all of the blame" language.
Just today, I sent Ogren this e-mail:
- - -
Hello Paavo,
What's the status of the proposed resolution intended to support the CDO holders in Los Osos?
Is it being re-worded?
When is it coming before the Supervisors again?
WILL it come before the Supervisors again?
Thank you in advance for your prompt response,
Ron
- - -
I've followed/covered SLO County Government since about 1990, and I've never seen anything like it -- Supervisors OUTSIDE of a District care more about the people in that District than that District's own Supervisor... if ya follow.
After witnessing Gibson's act over the last couple of years, I have to wonder: How did this guy get elected? Was it because of the Cayucos viewshed issue, that he can't even vote on due to a conflict of interests?
Heck of a job, District 2.
###
[3/6/08: Quick addition: Oh, how could I forget this -- Nash-Karner is also listed as an "Endorsement" at
brucegibsonforsupervisor.org
. Next time I'm in SLO, I'll try to swing by the Clerk-Recorder's office to check Gibson's campaign contributions to see if Nash-Karner donated, and, if so, how much. Of course, I'll publish that information here, along with any other newsworthy stuff I might find in those documents.]
[March 11, 2008:
UPDATE TO MY UPDATE
:
As promised, the last time I was in SLO, I swung by the CCR office.
Is anyone really surprised by this? Nash-Karner donated to Bruce Gibson's campaign. On 5/19/06, she donated $100. Why is that interesting? Because in that same entry, her year-to-date total is "$199.00," and on the "Gibson for Supervisor" site,
it reads
:
"For donations of $100 or more, providing your occupation and employer is required by law."
and;
"Sorry, we can not accept cash for contributions of $100 or more."
So, as usual, Nash-Karner is up to something sneaky. By donating just one dollar below the $100, like she did, she gets to anonymously contribute as much "cash" as she wants, and apparently, no one, including some smart-ass reporter, can track it. Incidentally, in Gibson's books, nearly every other donator's dollar total ends in a "0," but not Nash-Karner's, of course.
Here are some other interesting "Gibson for Supervisor" contributors:
- Bill Garfinkel: Garfinkel is the chairman of the county's Technical Advisory Committee for the Los Osos project.
- Frank Freiler: Freiler was a former LOCSD Director partly responsible for throwing over $20 million towards the development of the Tri-W project.
- Les Bowker: Bowker is perhaps the "below the radar"-est person in this whole affair. He's been on the RWQCB forever, and his wife, Rose Bowker (now deceased) was an initial LOCSD Director that spent two years chasing the Solution Group's "better, cheaper, faster" ponding system that formed the LOCSD, yet, predictably, failed two years later. Les Bowker was also a member of the Solution Group, according to a Solution Group newsletter.
- Longtime Nash-Karner friend, and previous 2nd District Supervisor, Shirley Bianchi, of course. She gave $500.00 on 12/28/05... merry Christmas, Bruce.
And, I found this interesting: On 4/12/07,
Gibson's campaign donated $500.00
to the "Visclosky for Congress" campaign.
Pete Visclosky
is "an Indiana congressman with heavy sway on whether the Los Osos sewer project gets" millions in Federal funding.
You scratch my back...
And, finally, let the record reflect:
SewerWatch
has
never
been above juvenile humor (wait, did that come out right?), as long as it makes me laugh, and this makes me laugh...
Ever since I posted that mug shot of Gibson, at the top of this blog entry, I just can't help but notice the similarity every time I come back to do an update: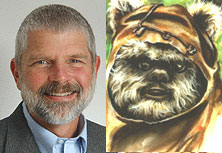 I mean, c'mon. Is it just me?
(I'm by no means a Star Wars dork, because I'm not 12, but I must find humor in Star Wars comparisons, because this is the second time I've done it. The first was when I showed how Nash-Karner "
Jedi mind-tricks
" regulators, politicians, journalists, and voters into doing things they normally wouldn't do.
"These are not the droids you're looking for."
"These are not the droids we're looking for."
Funny, sad,
and
true.)]