Sweet Lid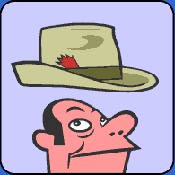 Yea, I know. It's been a while since I posted anything on this blog, but I saw something at the recent Regional Water Quality Control Board meeting that compelled me back to my keyboard.
And, no, it has nothing to do with the fact that newcomer RWQCB staff member, Matt Thompson said,
under oath
, "Through a lengthy multi-year process of alternatives evaluation and public meetings, the Los Osos CSD developed a technically, environmentally and financially sound community wastewater project," even though his fellow staff members seated to his immediate right, not-so-newcomers Roger Briggs and Sorrel Marks,
both
know
that isn't accurate
, yet continue to put that inaccurate language in their
official documents
, and then have fresh meat recite it in very public situations,
under oath!
And no, my motivation for this post has nothing to do with the fact that the Chairperson of the Board, Jeff Young, said there was "a balancing" in the benefits of an out of town sewer plant site with the Tri-W site, even though there is
absolutely no evidence
whatsoever to support that claim. In short, there is no balance.
And no, this post has nothing to do with the disgust I feel when I watch decent people like current CSD Directors Lisa Schicker and Chuck Cesena valiantly scramble to save their community from massive fines while the people that brewed up
the hell-broth
that led to the fines, like former CSD Directors Stan Gustafson, Gordon Hensley and Pandora Nash-Karner, calmly and without pressure linger in the background, exhibiting a maddening lack of accountability.
And no, I'm not writing about the excellent piece of footage that Schicker had locked and loaded for her presentation of a September 7, 2000, CSD meeting that shows an agitated Bruce Buel telling an understandably nervous CSD Board to pick a site by "next week," even though that same board got elected,
and the CSD formed
, on the basis that they had already told the community that they had picked a project -- the "better, cheaper, faster" Community Plan at Tri-W -- nearly two years earlier (I have a question: What in the hell were Roger Briggs and the RWQCB doing during those two years? Twiddling their thumbs? Talk about "inconsistency in enforcement.").
And, finally, no, my motivation for this post has nothing to do with the fact that CSD attorney John Seitz, at Thursday's meeting, never got an answer to his excellent, bottom-line question: "How does fining the Los Osos CSD into bankruptcy lead to cleaner water faster?"
The answer, of course, is, "it doesn't."
No, no, no. This post has nothing to do with any of that trivial stuff. This is an
important matter
.
I want a hat, damn it.
You should've seen this thing. It was sweet.
The guy seated in front of me at the Water Board meeting was wearing it. I'm guessing he was an employee of Barnard Construction, one of the three reckless contractors that signed onto this mess despite the fact that they all knew a recall election was coming down the pipe, because embroidered -- that's right,
embroidered
-- on the back of the hat in plush, colorful lettering were the words:
Barnard Construction
Los Osos Wastewater Project, 2005
Los Osos, California
Too cool.
The baseball-style cap was white with a sharp blue trim, and on the front was a nice logo. Quality merchandise.
I've already placed a call to Barnard Construction inquiring if a member of the public could purchase one of those hats, but the befuddled individual on the other end of the line said they were only available to employees. However, after lots of awkward moments, he did finally concede that I could "call back." So, apparently, there's still a shred of hope that I could land one of those sweet lids.
Which gets me to my point... Since you cheap bastards rarely donate to my independent journalism experiment (by the way, it's easy, the button's on the right), the least you could do for your old pal,
SewerWatch
, in this season of giving, is to swing by the Barnard Construction office, pick me up one of those hats, and mail it to:
SewerWatch
P.O. Box 120
Santa Margarita, CA
93453
Please keep in mind that I have a huge head (and I mean gigantic), so make sure there's
at least
one "X" before the "L" on the part of the label that says, "size."
'preciate it.
###