County Supervisors get letters, lot and lots of letters... letterrrrrrrrrs! (including one from me)
Dear Mr. Gibson, Mr. Ovitt, and Mr. Ogren,
In a recent
story in the Tribune
("Locals lobby for federal sewer cash," 3/8/07), it reads:
"Gibson and Supervisor Harry Ovitt, who represents the Paso Robles area, led the county delegation that included Paavo Ogren, the project manager, and administrative services officer John G. Diodati."
and:
"... they said they are seeking to boost a decades-old authorization for the sewer from $30 million to $35 million, and to get that $5 million increase in a check as quickly as possible out of a 2008 spending bill."
Here are my questions:
1) If federal money is secured for a sewer project in Los Osos, and IF the Tri-W project is eventually selected by county supervisors, will that federal money be used to pay for things like the $51,000 amphitheater, the $690,000 dog park, the $3,000-a-piece eucalyptus benches, and the $102,000 tot lot that the LOCSD included in the project?
and;
2) Did your delegation inform federal officials that more than $2 million worth of park amenities would potentially be funded with the federal money if the Tri-W project is selected?
Thank you for your time,
Ron
P.S. Below is the financial breakdown of the park element in the Tri-W project. It's from an official LOCSD document, circa 2005: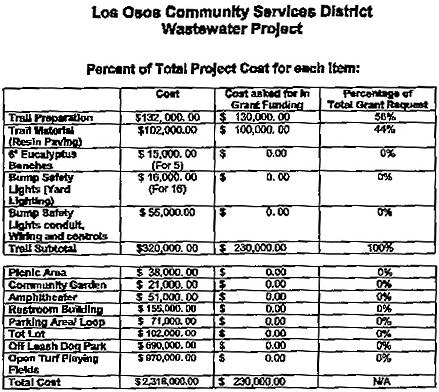 (IF they reply, I'll post their responses in the comments section.)